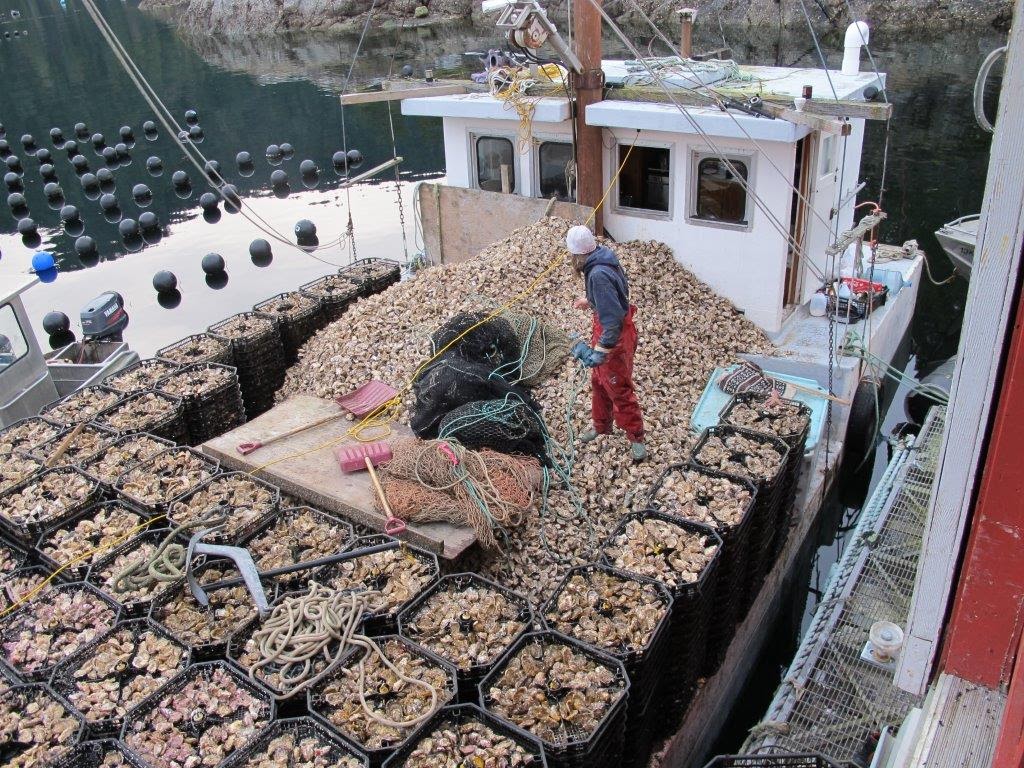 About us
We are the McLellan Family and we have been farming shellfish for several generations here on the shores of Fanny Bay. The scenery is beautiful, the air fresh, and the water clean. You can experience our way of life in the delicious oyster and clams we grow.
Our beaches and deep water locations are renowned for producing world-class shellfish.
This healthy marine environment, knowledge, the hard work of our farm crews, and the support of our community has made our farm an industry standard for growing mighty fine oysters and clams. From these efforts our farming operation became a cornerstone of Pacific Canada's shellfish industry for more than half a century.
Please come and enjoy our piece of the world in each and every oyster and clam you taste.
Importers
Federally Registered CFIA and FDA Plant approved for export to Asia, Europe, and North America

Steady supply of export quality delicious shellfish straight from our farm, helps you manage
demand.
In most cases only 5 day lead time is required to arrange and ship.
Paperwork to clear customs: Certificates of Origin, Hygiene, Aquatic Animal Health Export
Certificates, Sanitary Certificates, airway bills, copies of tags, HACCP and QMP letters.
Wholesalers
We work in partnership with you by referring to restaurant and chef inquiries to your company.
Regular twice-weekly shipping and delivery schedules allows you to plan ahead
Marketing support: photos, fact sheets, trade show samples
Delicious fresh shellfish from British Columbia enhances your offerings
Distributors
Up to 30 days credit terms on approved accounts in North America
With our legacy brand name known for quality shellfish and over 70 years of continued
operation you can have the confidence to ask your customers for the price you deserve
Several oyster types to choose from, as well as clams and shucked meat all packed in attractive 3 color sturdy
wet lockboxes
What You Can Expect From Us
Trusted & Experienced
We are a family-owned and operated oyster and clam farm, with knowledge built over four generations of our shores and its environment. We know how to grow quality, great-tasting shellfish.
Reliable & Fully Insured
We work with government regulators, with ongoing lab testing and inspections, in order to safeguard our customer's health and experience. We have operated uninterrupted for over 60 years. Temperature and preventive controls are in place that you can rely on.
No Contracts
You can place an order up do a 24 hours in advance of shipping day, at any frequency, whether you are seasonal, market, or supply chain buyer. With your account kept current, there will be no disruption in shipping to you, aside for environmental reasons such as weather or poor tides. You are in control.
Satisfaction Guaranteed
This is the easiest part of the website. If you are not satisfied with the product you received, we will credit your account.

"I have been buying oysters from. Mac's for about 30 years. Big ones, little ones. In the shell and shucked. Once I bought a bag of baby oysters and seeded my own beach. Mac's oysters are FANTASTIC!! I could eat them every day. Today my wife and I feasted on a full 32-ounce bin of mediums, fried in butter. Heaven. Thank You Mac's!!!!!"
MAC'S OYSTERS LTD
Tel: 250-335-2129
Toll Free: 1 800-566-3805
Gordy Mclellan Jr., General Manager
Sally, Logistics and Customer Service Manager
Amanda, Operations
Luna, Sales and Customer Service
MAC'S OYSTERS LTD
Located on Canada's Pacific Coast
Pacific Time Zone
9:00AM @ Mac's =
12:00PM in New York (+3 hours)
6:00PM in Madrid (+9 hours)
Midnight in Taiwan (+15 hours)